The Journey to Becoming a Resilient Leader: How to Cultivate Trust and Find Balance and Joy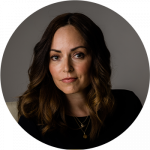 Fernanda Lind, April 5, 2023
You've likely heard the old saying "Work smarter, not harder." If you're anything like me, you might have scoffed (and rolled your eyes), dismissed the author's wisdom, and doubled down on your efforts after a few extra shots of espresso. After all, hustle mode is the key to success, right?
It was through sheer grit and determination that I excelled first as a dancer and student at the Ballet Academy and later on in business school, earned my finance degree, and balanced a full-time job, all while being a mom to three kids. I was a top student, landed a prestigious job in the financial market one year before even finishing my studies (and yes, I wrote my thesis while working full time as a bonds trader), and continued to push myself to be the best. 
That was my identity. Work hard, achieve, repeat. A formula for success.
You know what I wasn't good at?
Being fully present with my kids, my friends or with myself.
Having grace for others – I mean, why is everyone so slow? Why can't they think faster, do more? Why can't they keep up with my speed?
Being happy. Yes, I was thrilled to get the new shiny position and I loved the competition, the hunt of the next career achievement, but it never lasted long. It didn't take long for me to feel empty again and needing the next achievement.
What I wasn't good at was killing me from the inside out. All I wanted was to feel fulfilled, to feel happy and that everything I had sacrificed was worth the cost.
As an ambitious career woman I had sacrificed so much.
Finding genuine happiness eluded me. Sure, I relished the thrill of new challenges and career milestones, but that joy was fleeting.
These shortcomings were eating away at me. I yearned for a sense of contentment and the reassurance that my sacrifices were worthwhile.
The key to having an amazing personal life, to becoming a better mom, a more attentive friend, a great partner, and reaching my full potential in my career wasn't working harder or achieving more. It wasn't about perfecting time management, prioritizing better, letting go of responsibilities or immersing myself in yoga or going on a luxurious retreat to "fill my cup".
I tried all of that and found it lacking.
Instead something else, very unexpected happened, where everything changed, resulting in a profound paradigm shift that forever transformed my life.
That shift was the realization that my own brain was the culprit. But also, that my own brain held the secret weapon to making success sustainable. The truly surprising revelation was that I had the power to change my brain. Discovering the concept of neuroplasticity changed everything for me and I never looked back.
By becoming aware of my brain patterns and recognizing their malleability in response to experiences and surroundings, I tapped into a renewed source of power that set me free. I learned to use my brain to work for me, not against me. My stress levels, once off the charts, decreased rapidly. 
As I continued to reshape my thought patterns, I cultivated trust in myself. Inner peace emerged. A calm mind is an interesting thing – who knew that from an altered state of mind there's a well of creative energy that allowed me to work at full speed – without the side effects of burnout.
This newfound inner peace strengthened my relationships and increased my focus and flow, fostering a sense of balance in my life. Instead of constantly chasing achievements hoping it would bring me the happiness I craved, I began to feel joy in the present moment.
A sense of deep fulfillment emerged.
I discovered that the journey to becoming a resilient leader wasn't about hustling harder, but rather about rewiring my own brain and fostering a mindset that builds trust, balance, and joy from within. By shifting my focus and harnessing the power of neuroplasticity, I unlocked the potential to actually have it all, to excel in all aspects of my life, without sacrificing my well-being or relationships.
Wanna learn how I did that?
Join my course, Work, Freedom, and Flow where I give you the roadmap to sustainable success.

In this course you'll learn how to tap into the power of your brain and develop the skills necessary to become truly exceptional.
Discover how to: 
Leverage your energy, not your time, to skyrocket your productivity and shave off 10 hours off your workweek

Work effectively and get more things done with less effort using the Rewired Method

Establish clear and elegant boundaries at work without being pushy or authoritarian

Find joy, bliss, and freedom in your work and life, by making your brain work for you (not against you)
Our clients can't stop raving about this course.
What you'll learn in this course has the potential to change the way you work forever.
Looking for more leadership insights and inspiration?
Subscribe to the Wired Weekly newsletter together with 9,000+ other executive leaders & founders.
Join 9,000+ other executives,  leaders & founders subscribing to the Weekly Wired newsletter. We break down the mindset strategies you need to rethink success and rewire your leadership.